"Rashi & Nakshatra Sanghatta Chakras Vedha Mars And Saturn Most Crucial For Warlike Situations And Global Economy"
In the book of Mundane Astrology editor Shri K N Rao it has been mentioned that if there is vedha between Mars and Saturn in  the Chakras mentioned it means War is on the Cards irrespective there is aspect and connection of Mars and Saturn exists or not as per Parashar.
NAKSHATRA SANGHATTA CHAKRA
The Most Crucial time frame for the Globe is after the 4th Sept. to 24th Sept. 2023 when there will be vedha between Mars and Saturn in the Nakshatra Sanghatta chakra and Rahu will also be adverse. Mars and Saturn will be in 6/8 axis till the 4th Oct. 2023.
See the Chart below.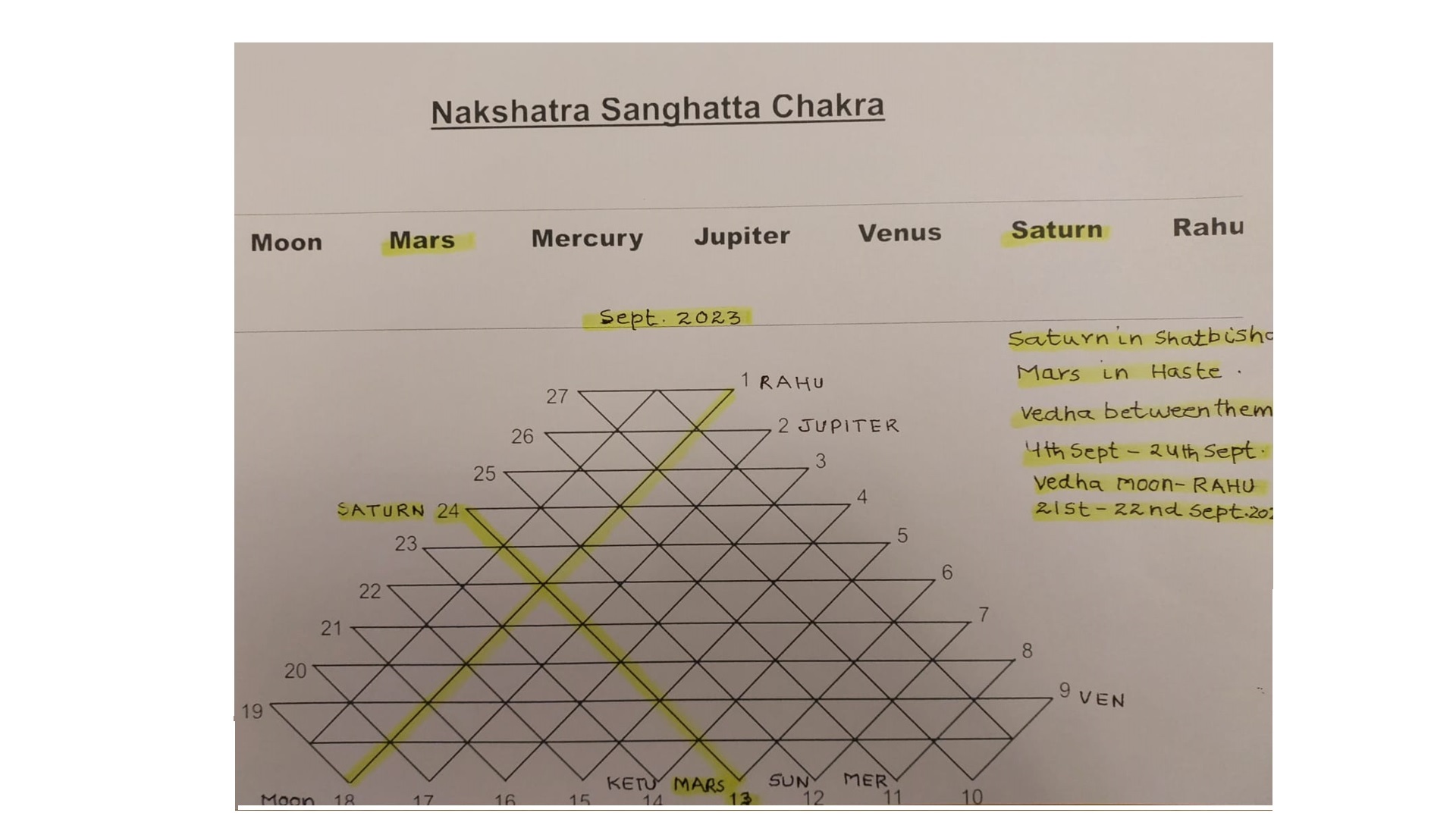 RASHI SANGHATTA CHAKRA
Now See the Rashi Sanghatta Chakra from the 3rd Oct to 16th Nov. 2023 Vedha between so may planets in the 2 7 11 Triangle and specially Mars and  Saturn. Both the  Sun and Moon are having Vedha most venomous on the 31st Oct. 2023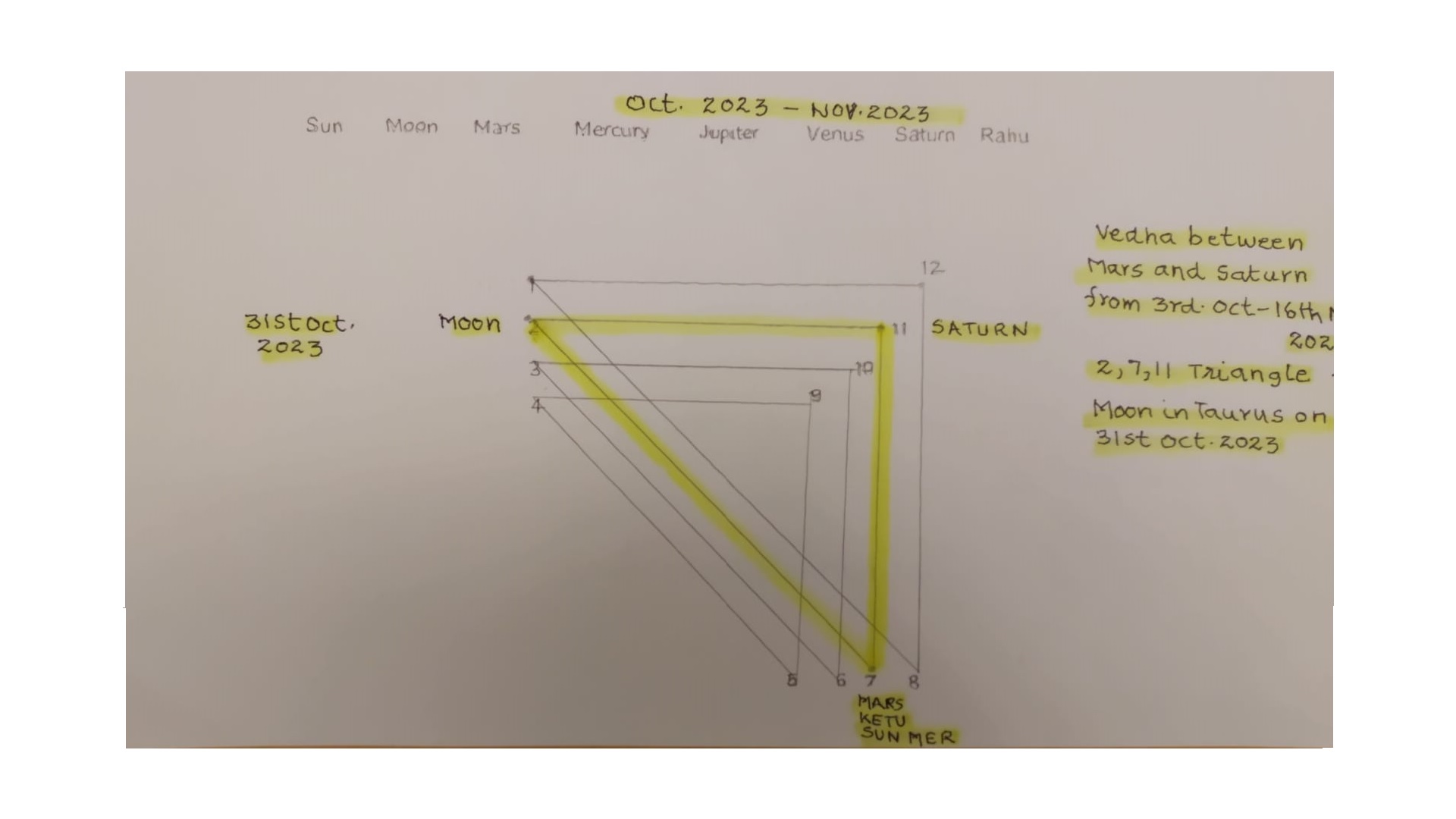 When there is vedha between Mars and Saturn for such a long time it is most venomous  for the globe  and this may create Panic in the Stock and the Financial Markets
The following effects could be seen as a result of the Vedha between Mars and Saturn in the nakshatra and Rashi Sanghatta chakra from the Sept. to 16th Nov. 2023 is most crucial for the World. My Article on the page 22-24 in
"THE EXPRESS TELLER " IN THE OCT. EDITION IS ALREADY PUBLISHED
Crude Oil Prices may rise as already Predicted between the 20th to 24th Sept. 2023 and then after 21st Nov. 2023 and inflation going for a toss and Global Economy Burst. There may be fluctuations in the prices also. They may cross 105-110 $ a barrel it so seems .
. War like situations in the World. Already the brawl between India and Canada has become ugly.  Brawl between the Countries will take ugly turn.
Earthquakes of Magnitude around the Eclipses already discussed in my previous articles on my webpage.
Political  Turmoil's leading to  crisis situations .
Head of the Countries may be influenced adversely  . I have already predicted About Joe Biden and Justin Trudeau.
Politicians and Celebrities may su8ffer during this time tenure. Gautam Adani may suffer on account of the planetary positions as already Predicted.
Air Crashes are also on the Cards.
 Rail and Air Accident.
Terrorism and Boarder clashes .
The Countries most influenced will be US, China, Canada, India , Asian Countries Russia and Ukraine.
 North Node Rahu Adverse at a stretch  from Sept. to Nov. 2023 will create illusions and ciaos as per the time frames mentioned in my Articles.
Activation of the Eclipse point by Mars on the 7th and 21st April 2024 will be ammunition dump.
Also read my Articles  below.
Prices Of Precious Metals & Crude Oil What Star's Foretell ? – Astrologer Anil Aggarwala (astrodocanil.com)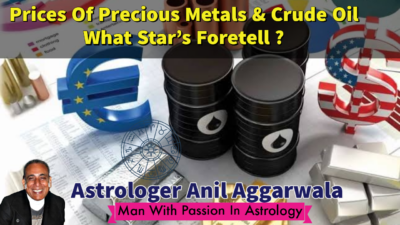 Fasten Your Seat Belts ! Stock Market Players Mars Rahu-Ketu & Saturn On Driving Wheel From 3rd Oct.2023 – Astrologer Anil Aggarwala (astrodocanil.com)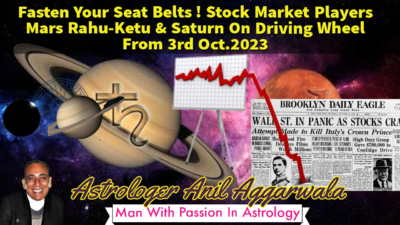 Demon Rahu Adverse & Stock Market Trends From 18th Sept.-3rd Oct. 2023 – Astrologer Anil Aggarwala (astrodocanil.com)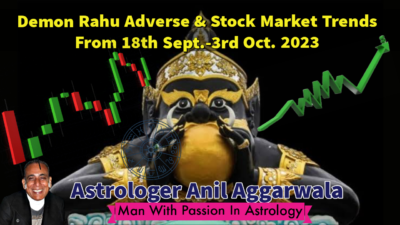 Alarm Bell's Ringing North Node Rahu Red Planet Mars & Saturn On Driving Wheel – Astrologer Anil Aggarwala (astrodocanil.com)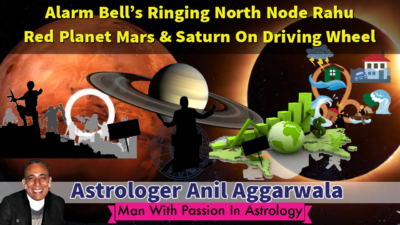 Stock Market Crash Eminent Oct. 2023 Planetary Positions Parallel Earlier Crashes – Astrologer Anil Aggarwala (astrodocanil.com)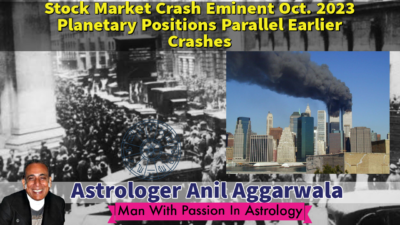 MY PREDICTIONS FOR THE FOLLOWING SEEM TO BE PROVING 100 %
Brawl Between Nations India and Canada  relations become ugly.
Terrorism —–Congress Leader Shot Dead In Punjab, Canada-based Khalistani Terrorist Claims Responsibility.
Stock Market Looses 800 points on BSE Sensex and 240 points in Nifty on 20th Sept. 2023
Brent crude futures eased from 10-month highs overnight but at $94.26 a barrel are up 30% in three months thanks to Saudi Arabia and Russia vowing to extend output cuts.
Sensex Tanks 450 points and Nifty 120 points at 09-45 hrs  21st Sept. 2023. It seems the Market will tank till the 24th Sept. 2023 along with Crude oil prices may go up .
The Oil Prices predictions are also part of Research and predictions may differ, but will come to some conclusions after this prediction.
Fed indicates increase of interest in the future creating further confusions for investments.
My word of Caution for players in the Stock market to be very vigilant and invest carefully else  you may land in troubles and loose money. The conditions in the Stock market will be volatile as already predicted and then the most crucial time in the Financial sector and may face the toughest time in the year 2023 as already predicted by me in so many articles on my webpage as per the partial Lunar Eclipse falling on the 29th Oct. 2023. It has been observed that ill effect of the eclipses are also felt before the actual eclipse and after the 3rd Oct. 2023 when Mars joins Libra and after the 18th Oct. 2023 when Sun also joins the Libra sign and a parallel combinations in the sign Libra for a Stock Market to take a beating.
I salute my Guru for the Teachings in Astrology.
ACHARAYA ANIL AGGARWALA      BSc Engg Prod. P.E.C ch
Written on 20th Sept.  2023 10-00 hrs .
Jyotish Acharaya BVB New Delhi and Astrology Research under the Guidance of Shri  K N Rao
Award Winner In Research in ASTROLOGY
THE ONLY ASTROLOGER WHO PREDICTED COVID-19 IN SEPT 2019 FROM CHINA
UNIQUE 7 MODULE ANALYSIS OF THE QUERY  UNLIKE OTHER ASTROLOGERS WHO USE ONLY BIRTH CHART
ASTROLOGY TEACHING ALSO UNDERTAKEN
CALL +918527884764,  +919810038903  BOTH ON WHATAPP
Disclaimer Clause applicable : The writer of the Article is not responsible for any bodies loss if he invests according to the above Predictions, May be a Individual, Corporate and any Company for that Purpose. The Investor will be responsible for his whims and fancies for the Investment and shall be responsible  for losses incurred. This is only for Educational purpose and the Predictions can be wrong also. This is to see if Astrology has replicable effects