CONSULTATION
GO on New Webpage or send your query from here
MY NEW WEBPAGE www.astrodocanil.in
For Astrology Consultation , I want to brief you my Method of analysis.
I follow a different Procedure for analysis of a Horoscope AS COMAPRED TO CONVENTIONAL ASTROLOGERS who use only BIRTH CHARTS and by one method only.
Module 1.Ashtamangla Prashna Like going to Super Speciality Hospital
Module 2. Prashna Jyotish like going to a Good Medical Hospital
Module 3. Birth Chart like going to a Clinic
Module 4  Jamakkol
Module 5 Superimpose Prashna on Birth chart
Module 6 By  Declination of Planets
Module 7  Dasha Varga charts for Dasha  and Profession like D6 of D10 analysis and DPYH charts  unlike Parashar
Prashna Jyotish by 17 methods as follows as against one method of Birth Chart By Parashar used by Traditional Astrologers
1.Prashna Triangle (My Research)
2.Panch Pakshi
3. Naisargik and Tatlika Chakra for Direction from which asked a question
4. Arudha Lagna by Direction Faced By Querist
5.Spristanga Rashi
6.Nakshatra Number
7.First word uttered by the querist when approaching the astrologer for query.
8. By Color of Cloths Worn by the Querist.
9.By Omens and Shakun Astrology
10. By Activity of the Querist at the time of Prashna .
11. By Ashtmangla Number Between 100-999
13. By Number Between 1-108
14.Prashna Kundali using Tamil Texts and Not Parashar
15. BY breath from Right or Left Nostril
16. By Left or Right Foot Firm at the time of Prashna
17. By Drawing a Square and Rectangle at the time of Prashna
Then Proceed to Birth chart, since Prashna shows the Present Karma and Birth chart the Previous Karmas and Time of birth is often wrong and the Vargas change .
1. Correction of Birth time by Prashna Chart
2. Parashara and Nadi Predictive analysis.
3. Jaimni astrology.
4..Nadi Progression charts to evaluate the coming years
5.Mathematical Analysis of the Dasha Perioods not by conventional methods , but nadi methods and Tamil methods. e.g Dasha of Saturn is for 19 years a Divisional Chart Constructed by Tamil Method to see the Placement of the Dasha Lords Mathematically in the Chart
6. Dasha Analysis by Bodhkan and other 3 Parameters by Tamil Shastra
7. For Career D6 of D10
8. For Unearthed Gains D11 Rudramasha Chart
9.By Modern method of Dasha Analysis By H R Shashdari Famous Astrologer of South
10. Dasha Analysis by South Indian Technique of Bhodkan, Vedhkan, Pashkan and Karkan
The Above Techniques are not used by 99.9 % Astrologers
Comprehensive Analysis By the 3 Modules as mentioned above
All the Analysis is on the Tamil Texts , Parashar, and Predictive Nadi Astrology
Professional Fee
Predictions By Prashna Jyotish 4 modules of Prashna Rs 7100/- only for one query
Predictions By Birth charts  General Readings Rs 11100/-
Predictions by Prashna and birth charts R$s 11100/- for specific one query
Prediction by Declination of Plane Total 7 Modules Rs 13100/-
Professional Fee will be entirely on the Query of the Querist and depending upon the
above 3 Options and Shall be informed upon submission of the query , or Talk on Phone , or Message through email 
Once Decided to Take the Consultation I would require the following Parameters as well
1.D.O.B Place of birth and Time of Birth,
2. Direction Facing w.r. t. Sun rising from East at the time of Query
3. Your activity . Body parts touched by you at the time of writing or consulting me for query
4. One to one Talk will be better for queries .
5 . Query should be asked with Pious Mind and the one Bothering you most.The Query should be in one line Put in Inverted comas.
6. Number between 1-108
8. Colour of Clothes worn at the Time of Query
9. Any Omens and Shakuns(Happenings) at the time of Query Around you. Please write what ever is Happening Predictions through Birth chart and Prashna Chart
10. A Number between 111 to 888 3 digit not using 9 and 0 may also be chosen and sent to me with above information.
Professional Fee shall be informed Upon the Query as mentioned above
Book an Appointment Now Between 9.00 AM to 9.00 PM on Phone +918527884764, Email: astrodoc.vedicastrology@gmail.com. Skypee ID aggarwalaanil WhatApp +919810038903
Consultation Fee as per Query
Birth Chart analysis As Per Query
Birth chart and Prashna chart together using 7 Modules As Per Query
Financial Analysis and Career Analysis
Jyotish Acharaya anil aggarwala 3 times Jyotish Alankar and 3 times Jyotish Acharaya , 2 years for Research with Shri K N Rao and 3 Years with Tamil Astrologer most talented and following his father and fore fathers doing Astrology by South Indian Techniques .
Call +918527884764 whatapp also email astrodoc.vedicastrology@gmail.com
Disclaimer : The Predictions are purely on Astrological Texts and Classics as per Vedic Astrology. The Predictions as per birth chart will be toatlly on the Data given by the Querist . Any variation in the Data will change the Predictions and hence the Responsibility of the Querist, because any difference in the time of birth will change the Predictions. Only Serious queries Give very good results and Casual queries donot give good Results . Astrology also works for those who believe in Astrology .
TEACHING ASTROLOGY
 Teaching  Astrology By Tamil Texts and other Relevant Astrology Classics
Prasha Jyotish Semester
Course Details
Prashna Jyotish By Tamil Texts 
Analysing the Query By the Prashna charts using  the Following Parameters
5 Limbs of the Day
Direction Faced by the Querist
Body Parts Touched By the Querist
28 Nakshatras
By the First Letter of the Word Uttered By the Querist
Color of the clothes Worn By the Querist
Activity of the Querist
Shakuns at the Time of Query
Analysing the Planetary Positions with Respect to Birth chart
By Ashtakvarga
Using the Chakras
Total 15 Methods employed to answera Prashna By Ashtamangla Prashna, Prashna chart and other Advanced Techniques
Duration and Timings
10 Lectures of 60 minutes each  and Minimum 2 Lectures a Day for Basic Course in Prashna
Ashtamangla Prashna along with other Techniques 10 Lectures
There are 4 Modules in the Prashna course.
 By 15 methods stated above
Ashtamangla Prashna
Prashna By B V Raman and Parashar
Jamakkol
Total Prashna Course with Advanced Methods Total as per above 40 Lectures
abb
Natal Astrology Details given below
Text  Material
For Text material only and no Lectures Rs 5000/- for each Module of Prediction and each Semester. There may be total of 10 Semesters including the Mundane Astrology.
In Case a Person wants Lectrures individually It will Cost Rs 2000/- for each Lecture for 60 Minutes
Text Material will be given on the Mail and those Interested can also Get Photocopies as well
Audio Recordings Can be Made for the Lectures
Minimum Group of 5 Students Required for One Class .
Professional Fee
According to Number of Students
For any Queries
Please Call Acharaya anil aggarwala 8527884764
anil aggarwala BSc.Engg. P.E.C Ch.
 Jyotish Acharaya , Research  BVB New Delhi Year 2007 to 2012
Website :www.astrodocanil.com
Email: astrodoc.vedicastrology@gmail.com
Video on Planetary cycle on https://youtu.be/YpD2jMWCO_Q
Writer of Articles on Star Teller, Modern Astrology, The Planets & Forecast,Times of Astrology, Research Magzine of All India Association of Astrologers, Journal of Astrology, Saptrishiastrology, The Astrologic Magzine of Joni Party of US
Award Winner in Research in Astrology in Bhartiya Vidhya Bhawan New Delhi
Read My True Predictions —https://www.astrodocanil.com/my-true-predictions/
Viewer Comments on Predictions —https://www.astrodocanil.com/viewer-comments-predictions/
Teaching and Consultation https://www.astrodocanil.com/consultation/
Financial Astrology   Teaching Please contact me on +918527884764 
Skypee ID aggarwalaanil
 Disclaimer Clause as Per the webpage applicable .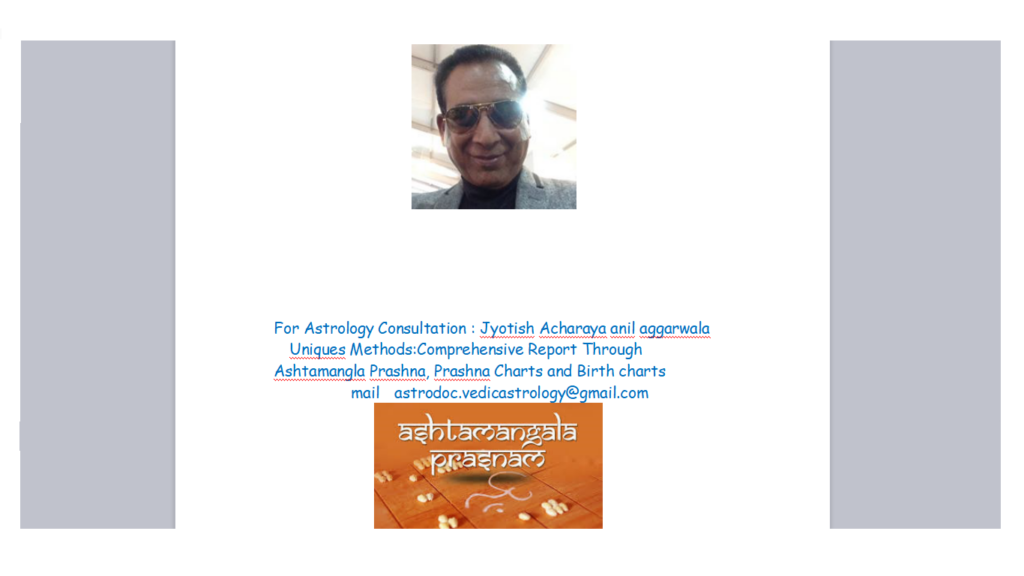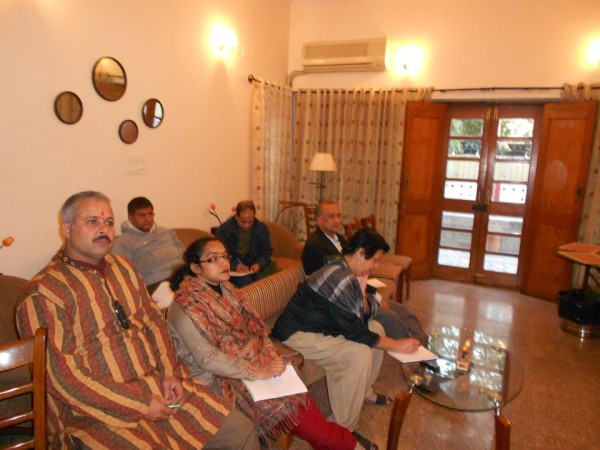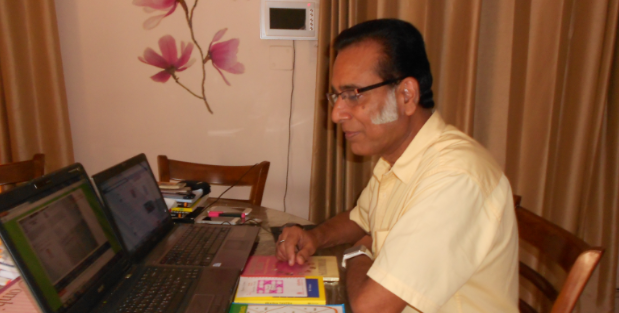 My  Email ID  astrodoc.vedicastrology@gmail.com  or call Mobile number+918527884764 , WhatApps No.  +919810038903

Syllabus Astrology will Talior made 
Total 10 Semesters as mentioned above
Each  Class would have First  10 minutes to solve Problems of the Student Relating to Lessons Taught .
One free Trial Lecture For Students want to Learn Astrology through Skypee.
Special Course 
10 Lectures for each Subject like Marriage, Career, Diseases and other queries
All Notes and Audios will be Given by me
Tamil Text Relevant with the Teaching will also be given in a Spirialed form after Payment of Actual Photocopy and Binding About Rs. 500/- Each
Complete Text and Audios will be given with Lectures .
Professional Fee
As per Number of Students  or Group of Students. Single Student Teaching will be More
For Foreign Students the Fee schedule is separate
The classes could be given Personally or on Skypee as well
Jyotish Acharaya anil aggarwala  Email astrodoc.vedicastrology@gmail.com
Ph. 9810038903,8527884764