"Demon Rahu Adverse & Stock Market Trends From 18th Sept.-3rd Oct. 2023"
This is with reference to my Articles below.
Alarm Bell's Ringing North Node Rahu Red Planet Mars & Saturn On Driving Wheel – Astrologer Anil Aggarwala (astrodocanil.com)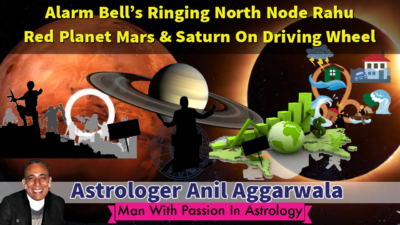 Read this text in this Article.
NORTH NODE RAHU DEMON IN ADVERSE MOTION CAPABLE TO TURN THE TABLES UP SIDE DOWN AND ALSO GIVE UNPREDICTED RESULTS
North Node Rahu will be in static and forward motion from the 17th Sept. to 25th Sept. 2023.
From1st Oct to 8th Oct. 2023
From the 13th Oct. to 30th Oct 2023. 29th Oct. 2023 Solar Eclipse will add fuel to the fire.
From the 5th Nov. to 13th Nov. 2023
From the 20th Nov. to 26th Nov. 2023
 Jupiter the planet of wealth in retrogression till the 1st Jan 2024 and with Rahu till 29th Nov. 2023 will prove a havoc for the Stock & Financial markets of the world as already predicted in my earlier Article.
Political hazards cannot be ruled out.
Terrorism at the boarders and Brawl between the Countries taking an ugly turn.
Earthquakes and Tornados of magnitude.
MARS AND SATURN VEDHA IN THE RASHI SANGHATTA CHAKRA 
There will be veda between Mars and Saturn the two heavy malefics  from the 3rd Oct. to 16th Nov. 2023.
Rashi Sanghatta Chakra below show war like condition in the world. from the 2nd Oct. to 29th Oct. 2023 these dates are the triggering dates when Mars can prove to be ammunition dump. This can also influence the Political parties and they can be at loggers head. The vedha in the 2 7 11 triangle is explosive between Mars Ketu Sun Mercury and Saturn
North Node Rahu adverse at a stretch is capable to turn the tables  and can unpredictable results till the 3rd Oct. 2023 after which the Crash seems to be eminent.
ASTROLOGY IS AMAZING 
ACHARAYA ANIL AGGARWALA      BSc Engg. Prod. P.E.C Ch.
BVB Research Scholar and Award Winner
Jyotish Acharaya anil aggarwala
BSc. Engg. P. E.C Ch
 10th . Sept. 09-00 hrs 2023 Reproduced on the 17th Sept. 2023 10-=00 hrs
Jyotish Acharaya BVB New Delhi and Astrology Research under the Guidance of Shri  K N Rao
Award Winner In Research in ASTROLOGY
THE ONLY ASTROLOGER WHO PREDICTED COVID-19 IN SEPT 2019 FROM CHINA
UNIQUE 7 MODULE ANALYSIS OF THE QUERY  UNLIKE OTHER ASTROLOGERS WHO USE ONLY BIRTH CHART
ASTROLOGY TEACHING ALSO UNDERTAKEN
CALL +918527884764,  +919810038903  BOTH ON WHATAPP
Disclaimer Clause applicable : The writer of the Article is not responsible for any bodies loss if he invests according to the above Predictions, May be a Individual, Corporate and any Company for that Purpose. The Investor will be responsible for his whims and fancies for the Investment and shall be responsible  for losses incurred. This is only for Educational purpose and the Predictions can be wrong also. This is to see if Astrology has replicable effects