272 You Tube Videos 1610 Articles and Predictions in just 75 months from April 2015
" Jupiter Planet Of Expansion 100 % Benefic Retrogrades In Aquarius In Rahu Star On 20th June 2021 Starts It's Journey To Fall In Debilitation Sign Capricorn Will Behave Like Mad Elephant "
Jupiter the Prime Minister of the Solar System , Planet of expansion will start to Retrograde on the 20th June 2021 at 20.36 hrs . As per the Chart below  when the Sign Sagittarius is rising and Jupiter in Rahu Star  Satbisha  gets afflicted  and the pivot around which the complete world will revolve may be it is 3rd Wave of Coronavirus, Stock and Financial Markets Political Turmoil's. It is a warning to the mankind. Life will oscillate and there will be many miseries anguish and pain in life for 120 days  starting from the 20th June to 20th Nov. 2021 . Jupiter can be compared to an Elephant in Animals and when Jupiter is deeply afflicted it behave like a mad elephant  and has the capacity  to ruin every thing like the mad elephant in the jungle . I fear 3 Major areas which could be adversely influenced specially between the 14th Sept to 20th Nov. 2021. Please read the disclaimer clause  for any investments made on the basis of this Article  the Writer will not be responsible for any Losses made by any Individual, Company or Corporate. In case any body does he will be doing it at his own risk and fancies 
It could possibly be responsible for the 3rd wave in the Coronavirus as already predicted after the Longitudinal distance between Jupiter and Saturn reduces less then 16 degrees  specially when it is Fallen in the sign Capricorn 
 Influence on the Stock and the Financial Markets Starting from the 21st June 2021. All Financial Scams will be exposed 
Since Jupiter is the 8th and the 11th Lord of the India Foundation chart  and will fall in the 9th house over the 9th and the 10th Lord  Saturn there will Be Political Turmoil's Religious Fundamentalism
CORONAVIRUS  AND THIRD WAVE MAY START FROM THE 21ST JUNE TO 20TH NOV. 2021
Jupiter goes in Stationary mode 4 days before Retrogression and have a look at the graph of the  Number of Covid-19 cases per day  have started to ease slowly . My Fear after the 14th Sept. to 18th Oct. 2021  the Coronavirus will again show it's head and influence the masses, children and the worker class

COVID-19 Updates: 58,419 New Cases; Deaths At 1,576 | Power Breakfast | CNBC-TV18
Last 3-4 days the number of Cases easing have reduced since Jupiter in Stationary mode
STOCK AND FINANCIAL MARKETS
Stock and the Financial Markets will star to see Volatility  from the 21st June 2021 Monday. Mercury will also be stationary and become direct on the 23rd June 2021, these 2 Parameters can drive the Stock and the Financial Markets in the negative side as already predicted some corrections on the 21st to 23rd June 2021. It seems that the Nifty may touch it's highest level till the 27th June 2021 and may  or may not cross the highest level of 15940. Mars and Saturn  Transit positions suggest that Nifty has already touched it's highest point as predicted by me earlier of 16000 level. After the -20th July 2021 There may be big corrections on the Cards specially between the 17th August to 16th Sept. 2021 in the immediate future ——– Note these Predictions 
POLITICAL TURMOILS
READ MY ARTICLE ON THE FUTURE OF THE BJP FUTURE AND CHANGES IN THE CABINET  
Coming back on the chart of the 20th June 20-36 hrs  which is below when Jupiter goes in Retrogression till the 18th Oct. 2021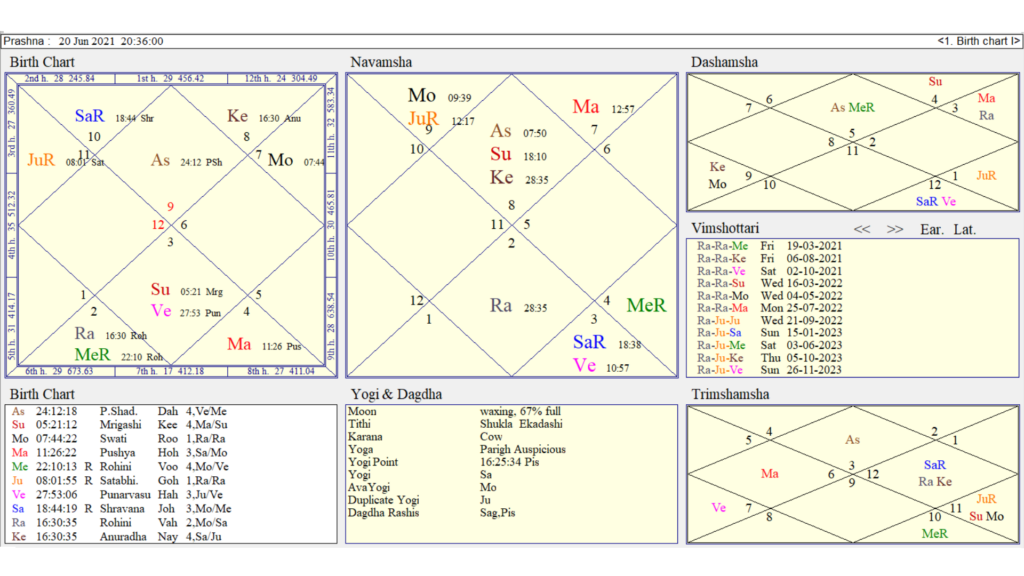 The Parameters acquiring important dimension are as follows 
The Day is Sunday and the Lord is Sun Placed in the 7th house  and in the yama of Sagittarius the Ascendant of the chart, but unfortunately the Lagna is Dagdha and in paap kartari yoga  and the Lord is Jupiter  and in affliction since in the star of Rahu. 
Both the signs of Jupiter Sagittarius and Pisces are Dagdha 
Moon is Placed in the sign Libra and Moon is also in Rahu Star Swati
Exchange of Stars between Rahu and Moon  one of the most venomous parameter
Jupiter is 100 % benefic planet and gets afflicted  in the following ways 
Jupiter In Retrogression from the 20th June 2021
Jupiter in Rahu-Ketu axis Forming Guru chandal Yoga. Presently Jupiter is in the star of Rahu
Jupiter in Debilitation 
Jupiter when A Fallen Planet
6. Jupiter will acquire all the above conditions   starting from the 20th June 2021 as follows 
Jupiter in Retrogression on the 20th June to 18th Oct. 2021
Jupiter In Debilitation from the 14th Sept. to 20th Nov. 2021
Jupiter will be a fallen Planet between the 14th Sept. to 20th Nov. 2021
Unfortunately  Jupiter will become first class Marak when Sun ingresses in the sign Virgo  between the 17th Sept. 2021 01-14 hrs to 17th Oct. 2021 13.12 hrs  since the sign Gemini will be rising during this time frame and Jupiter is Bhadak, Marak and has Kendraadhipati dosh and placed in the 8th house with 8th Lord Saturn 
Have a Look at the Nakshatra & Rashi Sanghatta chakra below  Jupiter and Moon both  have Vedha from Rahu 
NAKSHATRA SANGHATTA CHAKRA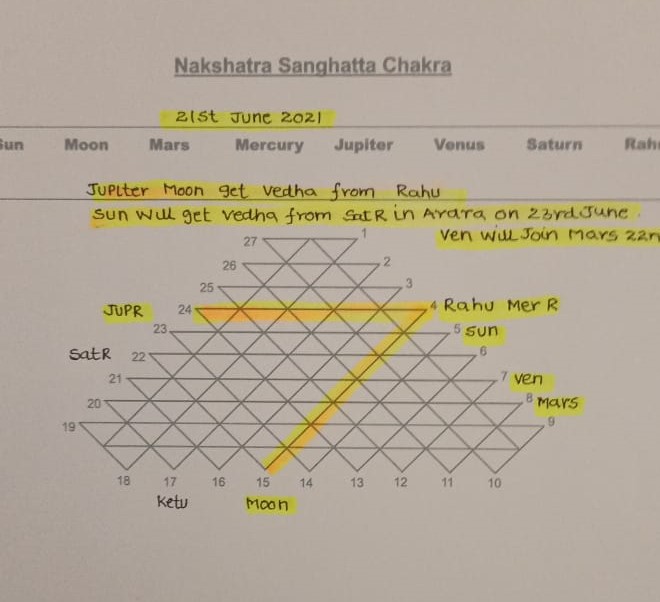 RASHI SANGHATTA CHAKRA
Hence Jupiter will be in Total affliction from the 20th June to 20th Nov. 2021  and most Turbulent time frame for the complete world . In this connection I have already written 4 Articles below
Jupiter Transit may influence the Maharashtra State the Maximum since the Lagna of the State is Sagittarius. It may influence the US, Japan, China, India, Russia Adversely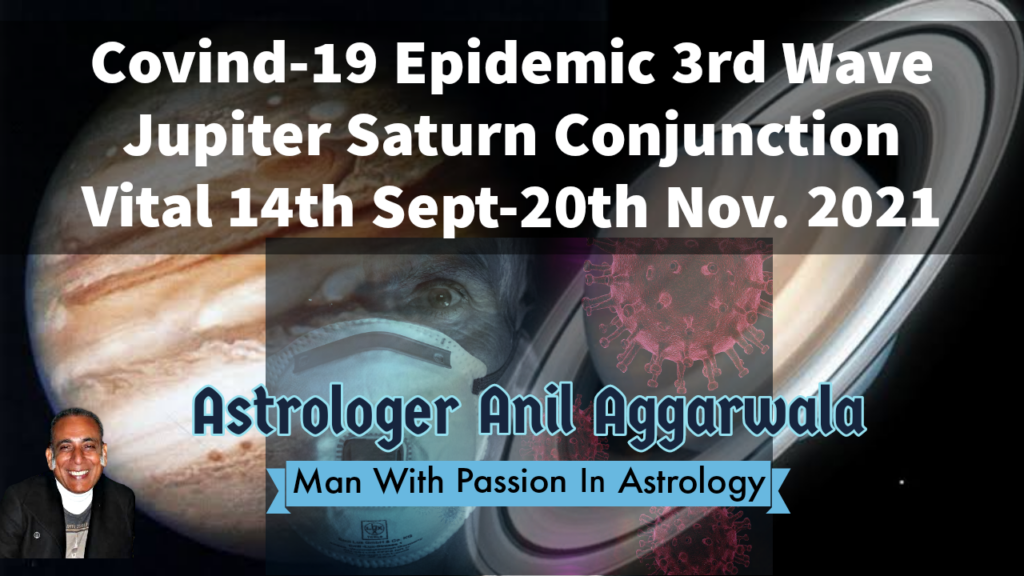 Most Venomous Sept. 2021 Lunar Fortnight Of 13 Days Jupiter Fallen Retrograde Debilitated Solar Ingress in Virgo Astrologer Anil Aggarwala – Astrologer Anil Aggarwala (astrodocanil.com)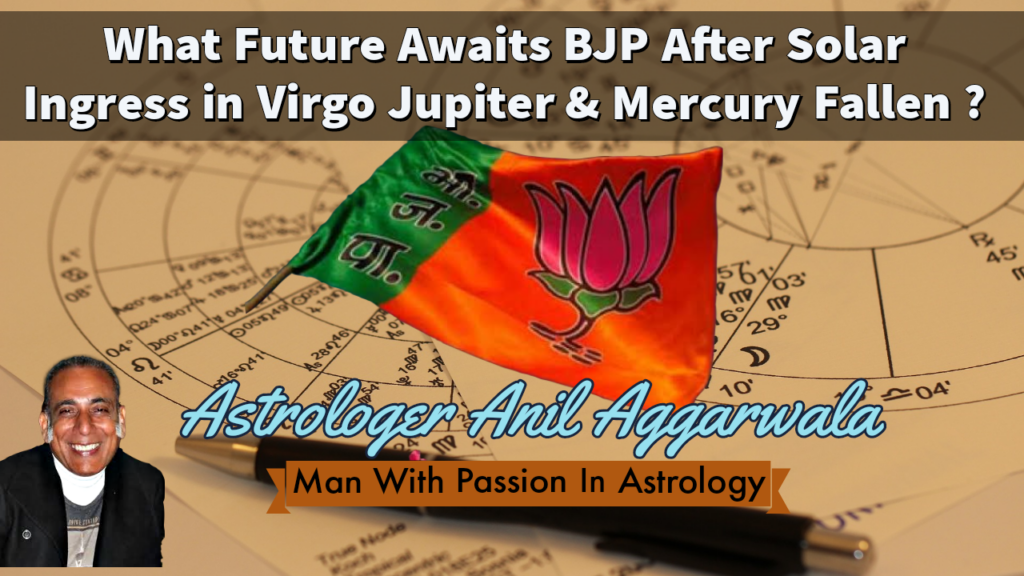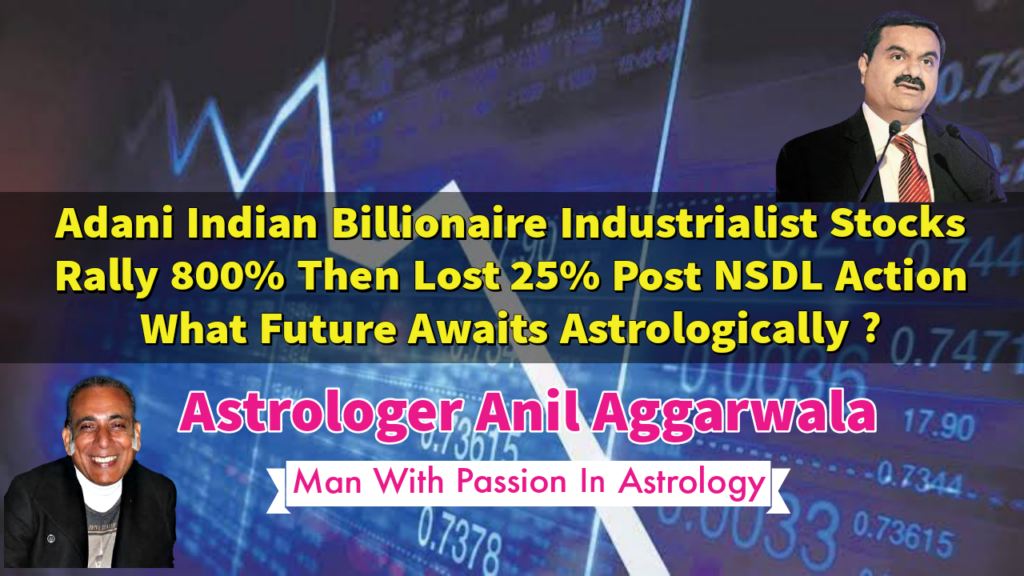 SIGNIFICATIONS OF JUPITER
Jupiter signifies religion, philosophy, judiciary, finances, business, trade, capitalism, treaties, external affairs, ministers, ambassadors, nobility, prosperity and peace, international cooperation. Arbitration between countries. Jupiter as a Jeeva planet represents new order. Jupiter is a Jeeva planet and represents resurrection and new order. It is a warning for the mankind 
During this period all of us should be very regimented and disciplined.  Jupiter may give many miseries  anguish  and pain in our life .
During this period till Jupiter moves into Aquarius, the fate and fortune of all humans will oscillate wildly and with much power.
Reciting the sloka of Lord Shiva, Lord Dakshinamoorthy, Lord Krishna and of course Lord Hanuman will provide able support and guidance. Observing strict standards and rules on every Thursday will also provide good protection and security. Charity done to pious Brahmins and Cows on this day will remove past karmic dosham and ensure success and happiness.
3 Important events which can be influenced the most 
3rd Wave of Coronavirus influencing the Children and the worker Class
Influence on the Stock and the Financial Markets
 Political Turmoil's Specially in India and in BJP 
CHART OF THE 17TH OCT 2021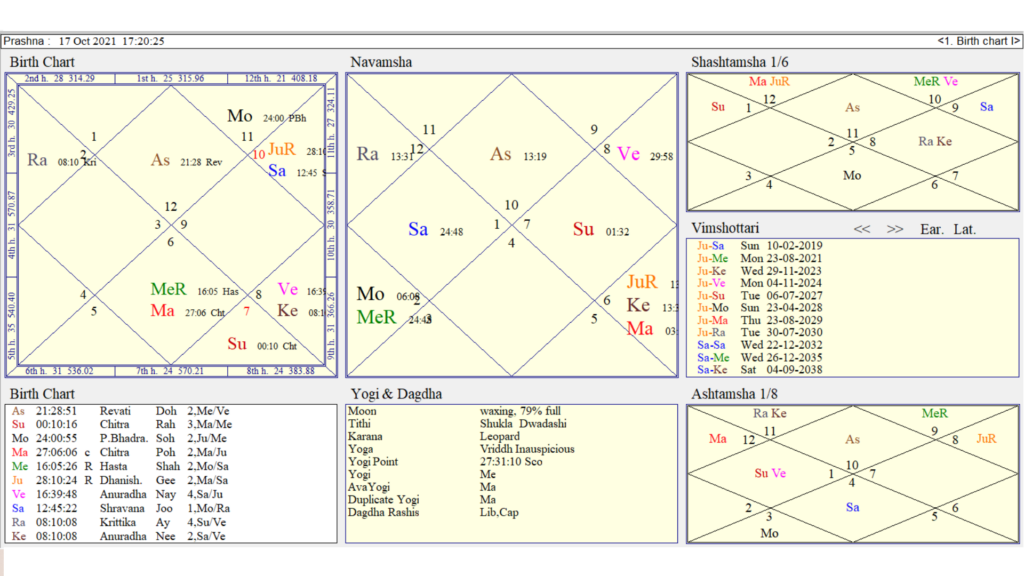 THE LONGITUDINAL DISTANCE BETWEEN JUPITER AND SATURN MAY REDUCE LESS THEN 16 DEGREES IS A CONCERN THE MAIN PARAMETER FOR 3RD WAVE OF THE VIRUS. THE GRACE IS KETU NOT IN JYESTHA  RAHU NOT IN ROHINI BUT VEDHA BETWEEN MARS AND SATURN IN THE RASHI SANGHATTA CHAKRA AS PER THE  CHAKRAS MENTIONED IN THIS ARTICLE  BETWEEN THE 3RD-4TH NOV. 2021 MY FEAR SPECIALLY TILL THE 2ND DEC. 2021
 2ND DEC. 2021 WHEN THE NUMBER OF CASES MAY START TO THIN SINCE THE DISTANCE BETWEEN SATURN AND JUPITER WILL CROSS 16 DEGREES 
Time Frames most enigmatic and crucial for Scams and Crisis For Adani Stocks  and influence on the Stock and the Financial Markets. Nifty may tough its highest point just before the 2nd July 2021. It has already touched 15940
27th June to 2nd July 2021 Volatile conditions 
Correction in the Stock Market on Monday  the immediate effect of Jupiter affliction on 21st June 2021 as already predicted. Can also be most volatile and unpredictable
After 20th July 2021 to 5th Sept.  Generally speaking most important time frame  for Corrections
14th Sept to 17th Sept. 2021 most important time frame  for Corrections from the 15th August to 17th Sept. 2021
14th Sept. to 20th Nov. 2021 Generally speaking not good  for Stock markets
11th Oct to 18th Oct. 2021
 After the 28th Feb 2022
Now Read this Media News
Delhi Unlocks: Malls Wear Deserted Look, Markets Witness Overcrowding With Violation of Safety Guidelines
Delhi Unlocks: Malls Wear Deserted Look, Markets Witness Overcrowding With Violation of Safety Guidelines (msn.com)
This is the situation when the Jupiter has just gone in Retrogression what could we expect from the above is obvious. Jupiter is going to  behave like a mad Elephant  and soon the cases will start to increase when the Longitudinal distance between Jupiter and Saturn decreases less then 16 degrees and after the 20th July 2021specially between 14thSept to 2nd Dec. 2021 . We must realize the importance of Social distancing else we will have to face the music of Afflicted Jupiter in the immediate future soon
Have a look at the chart of Delhi below  of the 1st Feb 1992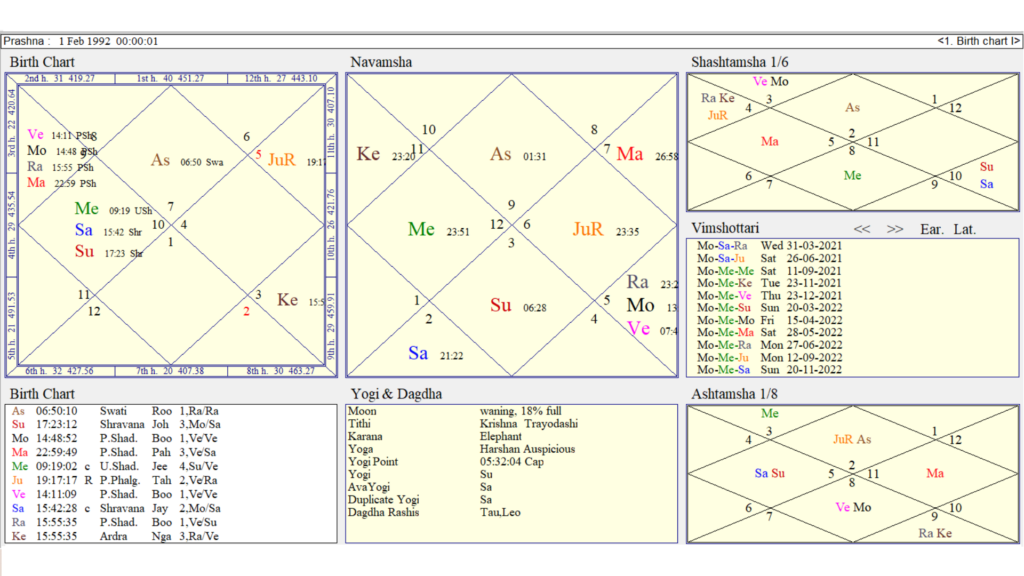 On the Day of Jupiter going in Retrogression  Moon is in the Lagna  in Swati  star and Rahu in the 8th house and there is exchange between Rahu and Moon which is considered most venomous
6th Lord Jupiter activating the natal Jupiter in Leo and then Falling in the sign Capricorn the 4th house will be most Venomous it seems for the Significations of the Jupiter and specially as the 6th Lord in most malefic condition. I fear the conditions may be most painful  due to this transit of Jupiter from the 2oth June to 20th Nov. 2021 
SOLAR INGRESS IN GEMINI
On the 15th June at 6.00 AM IST DELHI The Sun entered Gemini sign. It is the Third Sign of the natural zodiac and Sun ingresses in the 11th Sign from His Own Sign  Leo  . This indicates  Sun will be very Benevolent and Result oriented. The Day is Tuesday, Mars acquires  very important dimension this month. Moon is placed in Mercury star  Ashlesha.
The Rising Sign at the time of solar ingress is Gemini and the Lagna Lord Fallen in the 12th house with Rahu. Hence it is all the more important. In the Gemini sign  Sun is conjunct with Venus. Since Venus is 5th Lord it does not indicate relief and protection from Mother Nature fully . However, Jupiter from the 9th aspects both the Lagna and Fifth houses ensuring no extreme conditions for the virus spread. Further lagna also enjoying shub kartari Yogam is also very positive indicating placement.
Moon and Mars are conjunct in 2 house. Mars here is in Pushkaramsha, though debilitated. Moon being placed in own sign removes the debiliation effects of Mars. Further Mars also aspects Jupiter. Jupiter retrogrades on 20th June 20-36 hrs , this parameter is most venomous. All this indicates excellent condition with respect to the financial sector  but some scams can also be revealed after the 22nd June 2021  since the Lagna Lord Mercury Fallen in the 12th house with Rahu
Mercury and Venus having exchange Yogam will ensure good foreign policy and affairs during this month. Important decisions about these will bring excellent condition for India. Here Mercury is conjunct with Rahu. Rahu is placed in Pushkaramsha.
However the placement of Ketu the Roga Kaaraka in 6th House in Saturn Nakshatra and Saturn is 8 House are matter of caution and concern. Nature gives subtle warning for the virus spread if precautions are not taken the Mother Nature can punish the mankind. Do not ignore this warning.  After Jupiter goes in retrogression the number of cases easing per day can be adversely influenced  and the Graph MAY SUDDENLY CHANGE THE TREND AFTER 22ND JUNE 2021 WHEN MERCURY BECOMES DIRECT AND WITH RAHU AND FALLEN. BEING THE 6TH LORD OF THE NATURAL ZODIAC CHANGING ITS MODE OF MOTION CAN BE INSTRUMENTAL IN THIS .FINANCIAL SCAMS AND RISE IN THE NUMBER OF CASES OF CORONAVIRUS PER DAY  CAN NOT BE RULED OUT AFTER JUPITER BECOMES RETROGRADE AND MERCURY DIRECT AFTER THE 22ND JUNE 2021
MY VIDEO ON THIS
First Astrologer To Predict Virulent Virus From China Global Economy Burst Delhi Riots Nirbhaya Case Astrologer
Anil Aggarwala" 
Conjunction Of Mars-Saturn-Jupiter In Capricorn What It Has Up It's Sleeves ? Astrologer Anil Aggarwala – Astrologer Anil Aggarwala (astrodocanil.com)
VIRULANT VIRUS FROM CHINA AFTER SOLAR ECLIPSE OF 26TH DEC. 2019 ON THE 22DK SIGN AND THE 12TH LORD MADE ON 17TH SEPT. 2019



ASTROLOGY IS AMAZING
BVB Research Scholar and Award Winner
Jyotish Acharaya anil aggarwala
BSc. Engg. P. E.C Ch
20th June   2021 22.45 hrs   NOTE THIS TIME FOR PREDICTIONS
New Webpage http://www.astrodocanil.in/
Mobile +919810038903  +918527884764
Disclaimer Clause applicable. 
The Writer of the Article is not responsible for any person investing on the basis of the above Predictions and any loses made by any Individual, Company , Corporate shall be  doing on their own risk and Fancies . Please note this . This is an Astrological Predictions on the basis of the Book of Mundane Astrology  Guide Mr K N Rao  and Not My Own Parameters  Reference  Page 73 of the Book. This Article is Astrological analysis only and  my Predictions can be wrong also . Please note this. I am making these predictions on the basis of the Earlier happenings in BJP Party and the Dasha in Operation. 
#Adani_stocks_future
#Stockmarkets_future
#BJP_Fate_June_Nov2021
#3rdwave_coronavirus