1105 Articles and Predictions in just 55 months from April 2015
21st Oct. 2019 08-00 hrs when the Elections took place in Maharashtra had enigmatic planetary positions, First Win of BJP any way and then failure since Mercury was fallen in Transit and Devendra Fadnavis had Fallen Mercury in the Progression chart. which indicated his power would be curtailed.
The Oath Chart of Devendra Fadnavis was also enigmatic one and brought the down fall immediately as predicted .
In the Present scenario The Oath Chart of Uddhav Thackeray is worst then the Devendra Fadnavis and seems there will be no permanency in the Maharashtra as far as the Govt. is concerned
Mercury is on wheel and will blow off the powers of the Chief Minister soon. Mercury is in fallen state and also at the MEP of the Lagna and reaching the 7th house Scorpio at the Lagna degrees on the 20-21st Dec. 2019 may bring adversities for the Chief Minister
Read My Articles below on the Maharashtra Poll Crisis and all have Proved on dot what ever has happened
Mercury the Planet of our Psychology is in most afflicted state and all the Twists and Twirls have taken place and you would see for your self the Future of the Maharashtra Govt.
1."Predictions Prove On Dot : Fallen Mercury In Transit & In Natal Chart Of Uddhav Thackery Blows Off Possibility Of His Coming In Power Astrologer Anil Aggarwala" https://www.astrodocanil.com/2019/11/predictions-prov…r-anil-aggarwala/
Look what I wrote for Uddhav Thackeray initially lost the opportunity of becoming the CM and even after he takes Oath he does not have even 5 % to retain the Power as seen from the Planetary positions. Let Venus transit Gemini sign on the 1st August 2020 and aspect the Venus the Lagna Lord at the time of the Oath taking  and let Jupiter reach the 24 degree arc  you would see for yourself the Drama of the Planets which will put Uddhav Thackeray in hot waters —— Note these Predictions
Reproducing the Text here
CHART OF UDDAV THACKERAY
27thJuly 1960 10-14 Mumbai Maharashtra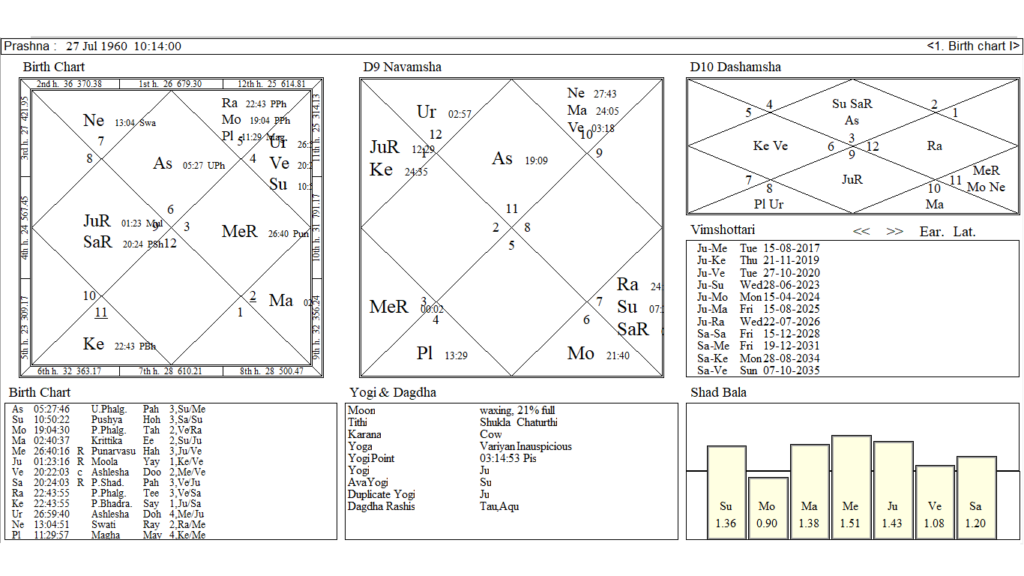 The Current Dasha in operation is of Jup-Mercury till 21-11-2019
The Lagna Lord placed in the 10th house is extremely good for Mercury and is a Rajyoga but unfortunately Mercury is a Fallen Planet in his chart and cannot give him the adequate power to become the Chief Minister of the Maharashtra. The Mid Cusp Lord of the 10th House is Jupiter and 3 Retrograde Planets are influencing the 10th house and the Lord is extremely malefic for a substantial rise in the Career . The Mis Cusp Lord Jupiter is ill placed from the Dasha at Birth Venus who is the 2nd and the 9th Lord . This Parameter will curtail his powers to get a role in the Maharashtra Assembly elections
FROM THE ABOVE IT IS CRYSTAL CLEAR THAT SHIV SENA DOES NOT HAVE IOTA OF A CHANCE TO GAIN POWER IN THE MAHARASHTRA ASSEMBLY ELECTIONS AND SPECIALLY THE POST OF THE CHIEF MINISTER
All Predictions Proved correct since initially Devendra Fadnavis became the CM. The Oath Chart of Devendra Fadnavis was enigmatic one and again the Predictions proved on dot as he had to resign as per the Predictions for the Verdict below proved beneficial for the Trio the Plaintiff in the Supreme Court
Now Wait and see the Role of Mercury for the Maharashtra Govt. Future as per Astrology
Article 2. "Supreme Court Verdict At 10-30 hrs. Twists and Twirls Plaintiff Seems To Gain Astrologer Anil Aggarwala" https://www.astrodocanil.com/2019/11/supreme-court-ve…r-anil-aggarwala/
This Article clearly indicates that the Plaintiff gains here and hence the Trio Shiv-Sens NCP and Congress the Plaintiff
As per the Oath Chart of the Uddhav Thackeray
MERCURY IS ON WHEEL AND NOW THE YAMA LORD AND THE KARNA LORD AND SEE HOW THE TWISTS AND TWIRLS TAKE PLACE TILL 10TH JAN 2020
Uddhav Thackeray takes Oath as Chief Minister of Maharashtra on the 28th Nov. 2019 at 18-40 hrs . The Chart is below

MOST MALEFIC PARAMETERS BELOW
The Day is Thursday and the Lord is Jupiter placed in the 8th house in affliction and in the yama of the sign Virgo. The Yama Lord Mercury is in afflicted condition since in Fallen state and Placed in the 6th house with 7th and 12th Lord Mars which is most malefic parameter in the Chart.
Lagna Lord Venus in the 8th house in Ketu nakshatra who is also placed in the 8th house with 8th Lord Jupiter
Moon in the nakshatra of Ketu and placed in the 8th house with Ketu and Jupiter in the 8th house
Lagna Nakshatra Lord Moon in the 8th house as above
10th Lord Saturn in the 8th house in the Nakshatra of Venus in the 8th house
Mercury the Yama Lord Fallen in the nakshatra of Jupiter in the 8th house
Sun in the 7th house in the nakshatra of Saturn in the 8th house
Lagna Prishtodayo and aspected by Prishtodayo Mars
Navamsha Lagna Prishtodayo Cancer and the Lord Moon in the 8th house of Rashi Chart
Lagna Adhomukh
DBA Planets Ketu-Rahu-Saturn Ketu and Saturn in the 8th house
Karna Lord Mercury Fallen
Uday Lagna Prishtodayo, Arudha Lagna Cancer Prishtodayo and Chaitra Rashi Aries and again Prishtodayo. CR in 12th house from UL. When Mars reaches the sign Aries will put Uddhav Thackeray in hot waters after the 16th August 2020——– Note these Predictions
SIMHASAN OR PANCH NADI CHAKRA
MOON AND SATURN MOST IMPORTANT PLANETS
Moon in Aadhar Nadi powers of the king are reduced . Moon in Affliction with Ketu and Saturn
Saturn in Assan Nadi and under affliction with Ketu and both afflicting Moon most malefic parameter
Moon in Aasan nadi with Saturn destroys the King
Jupiter in Aadhar Nadi does not protect the King
Moon with Ketu . Rahu will be Stationary on the 29th Nov. 2019 at the time of his taking the Chief Minister Office
Moon ishraaf yoga with 8th Lord Jupiter difference is 1.17 degrees hence extremely bad for the Oath Taking
Yama Lord Mercury and Saturn Ithasla and difference is 1.40 degrees prone to malefic happenings for the Chief Minister in the Multiples of the Above may be Days/weeks/months
POSITIVES IN THE CHART
Arudha Lagna is the Exhaltation sign of the Day Lord Jupiter
Dispositor of Sun Mars Exhalted in Navamsha
Arudha Lagna Lord Exhalted in Navsmaha gives some respite
TIMING OF EVENTS
The Twists and Twirls still exist till 5th Dec. 2019 since the Yama Lord and the Karna Lord is Mercury and when it joins the sign Scorpio and Sagittarius prone to difficulties for Uddhav Thackeray
26th Dec. 2019 and 10th Jan 2020 most difficult dates for the Chief Minister . Yama Lord Joining Saturn and Sun in Sagittarius may blow off his Power it so seems . As per Navamsha when Jupiter the Day Lord is in Debilitation and aspects the Lagna and the Arudha Lagna after 30th March 2020 will put the Chief Minister In hot waters it so seems , Hence a Time frame from the 5th Dec. 2019 onwards will be a tuff time for the CM. Another Crucial parameter is the Lagna Lord in Rahu-Ketu axis and in the 8th house and when Venus joins the sign Gemini on the 1st August 2020 will put Uddhav Thackeray in difficult position since the transit Venus will activate the Venus in the 8th house and will be with Rahu and will have aspect of Mars the 12th and the 7th Lord. There is also future ithasala of Venus and Mars . The Year 2021   if he survives the Power then July 2021 will be the worst months for the Maharashtra Govt. it so seems  — Note these Predictions 
TAKING CHARGE OF POWER ON THE 29TH NOV. 2019 AT 13-00 HRS
The Day is Friday and the Lord is Venus in the yama of Virgo its debilitation sign and the 8th House of the Chart of Aquarius Lagna and the yama lord is placed in the 9th house with Mars and in fallen condition. Rahu placed in the 5th house is in Adverse motion.
OATH TAKING CHART OF UUDAV THACKERY IS WORST THEN THE OATH TAKING OF DEVENDRA FADNAVIS AND WE HAVE SEEN THE OUTCOME AS PREDICTED BY ME
BIRTH CHART OF UUDAV THACKERY
Uudav Thackery has Fallen Mercury in the 10th house as the 10th Lord is most malefic combination in his chart and will give ill fame to him shortly as predicted earlier that he does not have combinations to reach a higher pedestal of Chief Ministership. Soon he would have a fall. The Birth chart has been discussed above also
It will be interesting to see the Dance of the Politics in the Maharashtra and ultimate failure specially of Uudav Thackery as per the planetary positions in the Oath Chart and the Birth chart
Jyotish Acharaya anil aggarwala BSc. Engg P. E. C Ch
29th Nov. 2019 06-00 hrs

youtube link of the workshop on the 19th May 2019

Astrological Summit on the 27th July 2019
My Presentation on Astrology NEIR'S SUMMIT

My youtube channel https://www.youtube.com/channel/UC9C4AIEjsr_d4W2UjB-s1Qw?view_as=subscriber
My Predictions on the Pulwama attack and IAF pouncing on Terror Camps of Jaish Prove on Dot for even the dat and time
https://www.youtube.com/watch?v=i8MMibxweZg

Award Winner in Research in Astrology in Bhartiya Vidhya Bhawan New Delhi
Email: astrodoc.vedicastrology@gmail.com
Facebook https://www.facebook.com/astrodocanil/
Writer of Articles on Star Teller, Modern Astrology, The Planets & Forecast, Times of Astrology, Research Magzine of
All India Association of Astrologers, Journal of Astrology, Saptrishi Astrology, The Astrologic Magzine of Joni Patry of US
For My True Predictions, Expert Advice, Viewer Comments, Teaching and Consultation go on the Home Page and Click the Relevant Option
Financial Astrology Specialised Teaching Please contact me on +918527884764
What App Number +918527884764 Skypee ID aggarwalaanil
My Interview On the YouTube https://youtu.be/T5p-GkWZLjw
My Interview in Singapore On YouTube https://youtu.be/xrnXlAbx08k
My Interview https://www.youtube.com/watch?v=xrnXlAbx08k&t=1439s
My Interview by a University of Repute from US https://youtu.be/l6GdrMx4uSo in Nov. 2018
My Interview by the Express Star Teller Magzine published in Sept. 2017 edition on the page 34 link on my webpage
https://www.astrodocanil.com/2017/08/natal-chart-reflects-past-karmasdeeds-of-the-present-life-can-be-effectively-depictedonly-through-prashna-my-interview-withexpress-star-teller/
Link EXPRESS STAR TELLER https://www.starteller.com/article7.html
My Article In THE EXPRESS STAR TELLER Garbshishta Planets Play Prominent Role in Life Page 32 March 2018 edition
My Articles In the Astrology Magzine ASTROLOGIC MAGZINE of US My Article "Ammunition Dump Mars, Roman God Saturn and Nodes What They Have Up Their Sleeves in 2018-2019 ?" in the Leading Astrology Magzine of US Astrologicmagzine link http://www.astrologicmagazine.com/ammunition-dump-mars-rom…/
Disclaimer Clause applicable as mentioned in the Home Page and the Writter does not take the responsibility if any one investa according to the Above Predictions , in that case he would be doing it at his own risk and fancies