Dec. 2021 Planetary Positions Most Enigmatic Mars Ketu Venus On The Driving Wheel For Virus Natural Calamities
Posted On December 7, 2021
---
"Dec. 2021 Planetary Positions Most Enigmatic Mars Ketu Venus On The Driving Wheel For Virus Natural Calamities "
 The Months of Dec 2021 seems to be most enigmatic one due to the following Parameters 
Solar Eclipse of the 4th Dec. 2021 Eclipse Point 18 degrees Scorpio which will be activated on the 31st Dec. 2021
5th Dec Mars Ingresses in Scorpio and Degree conjunction with Ketu on the 15th to 19th In Scorpio sign .
Venus ingresses in Capricorn on the 8th Dec 2021 and goes in Retrogression  on the 19th Dec 2021 as the 6th Lord of the Foundation chart of India indicates that there can be relapse  of the Virus and disease  and also relating to mutations in the virus. Venus Falls back in Sagittarius on the 30th Dec 2021 most venomous
Eclipse Point of the Lunar Eclipse will be activated on the 9th Dec 2021 at 3 degrees   
Venus Joins Capricorn on the 8th Dec. 2021 for 112 days parallel to the 8 years back Dec 2013-Jan 2014 for 116 days in the same sign and Ebola Virus broke out from West Africa , Now Virus Omicron from South Africa
Venus will be fallen in Sagittarius from the 30th Dec for 59 days and will be in the 8th house of India Foundation chart as the 6th Lord in Fallen status and hence chronicity of the Virus may increase along with Mutations
Marriages  May be disturbed  due to strain relationship who have parallel planetary positions in the natal and the Time of Muhurta
Mars will enter the star Jyestha on the 28th Dec. 2021. Asper the past The world ugliest happenings have happened when Mars is afflicted in this star which is Ferocious and Bitter 
All the above parameters will also influence the Stock and the Financial Markets and there will be lot of Volatility in the same as already predicted
The Surge in the Virus and specially Omicron from South Africa has taken place in the Dec. 2021 Parallel 2013-2014 Ebola from West Africa
Relapse of the Virus will start after the 19th Dec and take ugly shape after the 30th Dec. 2021 and peak between 30th Dec to 27th Feb 2022. There will be more panic till the above time frame , how ever the intensity may not be as the 2nd wave since Ketu is not in Jyestha star, but Mars in Jyestha star from the 28th Dec to 16th Jan 2022 will be the ugliest. Mars and Ketu in Scorpio the 8th house of the natural Zodiac and the 7th house of the India Foundation chart is a matter of Concern in totality 
Snake bite for the Bollywood and Film Industry .Yes this industry will suffer the most Yes correct My Article

https://wp.me/p7kBZR-5Vw

. My Predictions seem coming true 100 % Venus the Planet of Love and Beauty will be in most afflicted condition and will transit for 112 days in Capricorn and 59 days it will be in Fallen State like a snake bite for the industry. Some eminent Actor may suffer  in the 112 days from 8th Dec 2021. 
Those Natives who are in the age of 24,32,48,56 , 64,72,80 and having Affliction to Venus specially in the sign Sagitarius or Capricorn will suffer the most 
There will be more Panic then Danger from the Virus  but from the 28th Dec to 16th Jan 2021 most Prone time frame and even dangerous since Mars in Jyestha star 
NOW READ THIS   —–
Omicron Variant's Reinfection Risk 3 Times More than Delta; Kids, Unvaccinated at Risk
Covid-19 Omicron: Over 16,000 Passengers Land at Delhi Airport From High-Risk Countries
Omicron panic in Bollywood: Future seems Uncertain Venus Affliction like snake bite for the Industry
The News came on the 7th Dec. 2021 just close to the Eclipse point activation by Mars  of the Lunar Eclipse of the 19th Nov. 2021
As many as 80 flights have landed at the Delhi's Indira Gandhi International airport, December 1 onwards, from the countries identified as "high-risk" areas, in the wake of the outbreak of Omicron variant of COVID-19. More than 16,000 passengers who landed in Delhi from these countries have so far undergone the mandatory COVID-19 test at the airport so far, senior officials from the airport told CNN news18.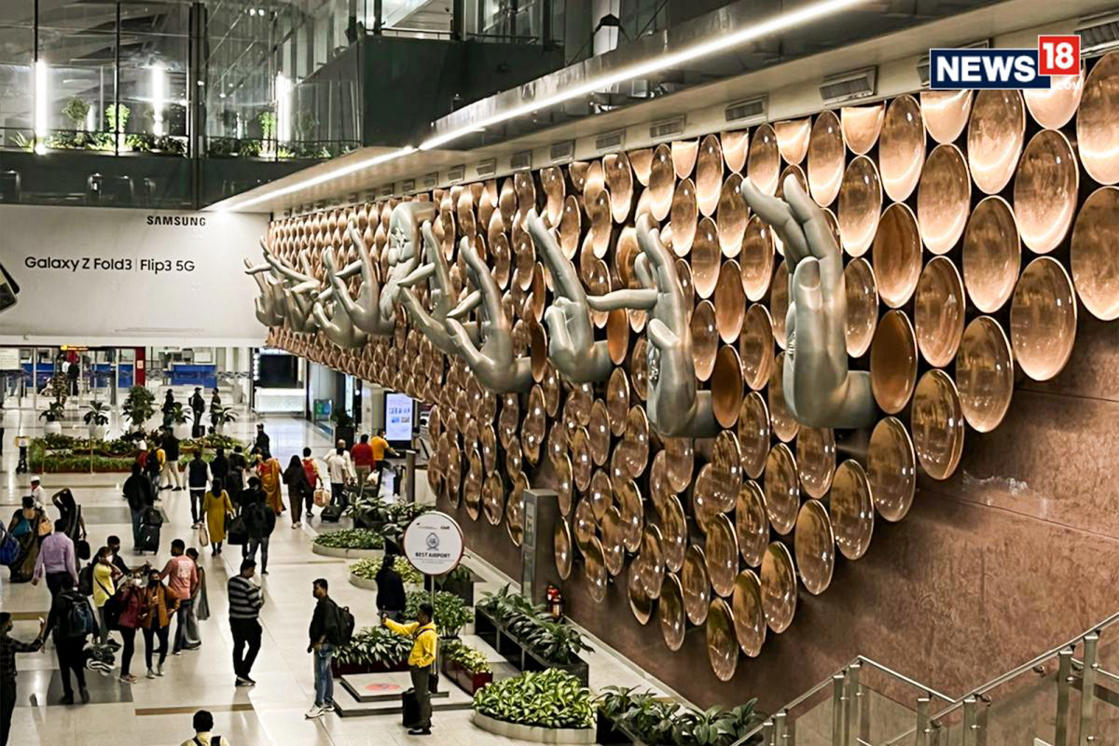 India has so far placed 11 countries in the 'high-risk' category amidst the spread of the new variant of Covid-19. These countries are — South Africa, The UK, China, Hong Kong, Singapore, Israel, Brazil, Zimbabwe, Mauritius, New Zealand and Botswana. Passengers coming in from these countries not only will undergo mandatory tests at the Delhi airport upon their arrival but will also require submitting details of their last 14 days of travel and upload them on government's Air Suvidha portal.
READ MY FOLLOWING ARTICLES
1.
2.
3.
4.
5
6.
7.
8.
9.
10.
11.
NUT SHELL OF DECEMBER 2021
Venus Retrograde & Rahu Ketu Creates Restrictions  Relapse of Virus Diseases & Isolation. Restriction in international flights . Recession in the Automobile industry. Bollywood to suffer the most . Mars in Jyestha from 28th Dec to 16th Jan 2022 Can be most explosive, avoid going to places of huge gatherings
December begins with a Solar eclipse, the last in Scorpio for 18.5 years. Planets continue to be volatile, so we must watch our movements . Mercury and Sun go through gandanta points most explosive , Mars makes dramatic conjunction with Ketu, Venus goes retrograde and has a planetary war with Mercury. Then Rahu Ketu begins a series of Aroha Kal Sarpa yogas making life imbalanced and keeping us unsettled to April 2022 specially till the 17th march 2022
Mars activation of the Eclipse point and Venus fallen  on  the  December 30 and 31, 2021, as Mars transits over 18°Scorpio, the December solar eclipse degrees.  Mars in Jyestha  from 28th Dec to 16th Jan 2022 explosive events in the world Unfortunately, Mars transit over eclipse degrees can bring up conflict, anger, violence, and wars. Therefore, we should all be careful and avoid attending large gatherings to avoid mass happenings going for a toss
December 2021
Key dates in December 2021
4 December

Total Solar Eclipse and New Moon  Scorpio, Jyeshta Nakshatra 7:43 am
5 December

Mars enters Scorpio till  Jan. 16, 2022.
Mars is in his own sign in Scorpio and most explosive till 16th Jan 2022
8 December

Venus enters Capricorn 8:21 am till 30 December 2021) Parallel situations like the 2013-2014 8 years back . Parallel situations like Ebola virus outbreak
10 December

Mercury enters Sagittarius till Dec. 29, 2021)
Mercury goes through Gandanta from 9 December till  10 December
14 December

Mars Ketu conjunction 6°19 Scorpio, Anuradha Nakshatra 2:14 am
Kal Sarpa Yoga starts with Mars conjuncts Ketu till 16 December 2021
15 December

Sun enters Sagittarius till 14 January, 2022
Sun goes through Gandanta from 15 December till 16 December
16 December

Kal Sarpa Yoga ends with Moon conjunct Rahu till  30 December 2021)
19 December

Full Moon 3°19 Gemini, Mrigasira Nakshatra 4:35 am
Venus turns retrograde 2°19 Capricorn, Uttara Ashadha Nakshatra 10:35 am till 29 January 2022
29 December

Mercury enters Capricorn till  6 March 2022
Mercury Venus Rx conjunction and planetary war 0°16 Capricorn, Uttara Ashadha Nakshatra 10:18 am
Venus Mercury Planetary war lasts for the day
30 December

Venus re-enters Sagittarius 2:31 am till Feb. 27, 2022
Kal Sarpa Yoga starts with Moon conjunct Ketu till 13 January 2022
DISCLAIMER CLAUSE APPLICABLE  AS MY WEBPAGE
This is only Astrological analysis and on the bases of the earlier happenings .  This Can Have an Adverse impact on the Stock and the Financial Markets and The writer does not hold himself responsible if any person invests according to the above Predictions. He shall be doing at his own whims and Fancies . The Writer of the Article is Not at all Responsible for any bodies loss note this
ASTROLOGY IS AMAZING
BVB Research Scholar and Award Winner
Jyotish Acharaya anil aggarwala
BSc. Engg. P. E.C Ch
 7TH  Dec 2021 15-30   NOTE THIS TIME FOR PREDICTIONS
New Webpage http://www.astrodocanil.in/
Mobile +919810038903  +918527884764
First Astrologer To Predict Virulent Virus From China Global Economy Burst Delhi Riots Nirbhaya Case Astrologer. .All My Predictions on the Virus Spread and ease have proved 100 % correct even the dates .
More than 1673 Predictions have been made and all spot on  with 96% True Results 340 YouTube Videos
Anil Aggarwala" 

Disclaimer Clause applicable.  The writer of the Article is not responsible for any losses made by any individual, Company or Corporate . This is a Research Article and Predictions for Stock Markets can also fail . Keep this in mind 
MORE THE 1630 ARTICLES AND 290 YOUTUBE VIDEOS  AND WITH 96 % TRUE PREDICTIONS
#Varshphala_predictions_warlike
#terrorism_predictions
#espionage
#assassinations_2021
#virus surge
#3rdwave_virus
#Omicron_virus
#Joe Biden Health
#astrological analysis of Health of Joe Biden
#Marriages between Sept-Dec 2021
#fate Of Marriages in Nov-Dec 2021
#nifty_rangebound_16700-18000
#mars_ingress_scorpio
#havoc_from_rains
#havoc_from_cyclones
#HAVOC_FROM _OMICRON
#havoc_omicron_dec2021
#virus surge
#venus_fallen_prone_virus
#Jacqueline_inhotwaters
#Jacqueline Fernandez May Be arrested
#Virus Parallel Ebola From South Africa
---
Trending Now