"Aditya Thackrey Lunar Eclipse 8th Nov. 2022 Over Natal Venus At 22 Degrees May Put Him In Hot Waters"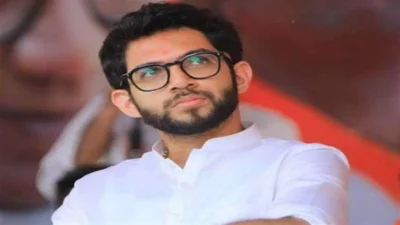 Aditya Thackrey is born on the 13th June 1990. Authentic birth details are not availablke but the Day of birth is mentioned on the wikipedia and He has Venus 22 degrees in Aries sign and The Lunar Eclipse exactly over the Natal Venus in Bharini star at 22 degrees is most crucial for his career   AND THE SIGNIFICATIONS OF VENUS WHICH MAY PUT HIM IN DEEP TROUBLE .
This is an Astrological Prediction and not my personal opinion. This is as per the Lunar Eclipse falling over his natal Venus degree-wise and suffering due to significations of Venus. The effect will be seen  around the 8th Feb 2023 when there is exchange of Stars between the Rahu and Ketu .
THE ONLY ASTROLOGER OF THE WORLD WHO PREDICTED THE COVID-19 FROM CHINA TWICE FIRST ON THE 17TH SEPT. 2019 AND THEN AFTER THE 8TH NOV. 2022 USING THER PLANETARY POSITIONS IN THE ECLIPSES AND BOTH MY PREDICTIONS PROVE 100 %
Jyotish Acharaya BVB New Delhi and Astrology Research under the Guidance of Shri  K N Rao
Award Winner In Research in ASTROLOGY
Date 23rd Dec. 2022. time 22-00 hrs
THE ONLY ASTROLOGER WHO PREDICTED COVID-19 IN SEPT 2019 FROM CHINA
UNIQUE 6 MODULE ANALYSIS OF THE QUERY  UNLIKE OTHER ASTROLOGERS WHO USE ONLY BIRTH CHART
ASTROLOGY TEACHING ALSO UNDERTAKEN
CALL +918527884764,  +919810038903  BOTH ON WHATAPP
Disclaimer Clause applicable : The writer of the Article is not responsible for any bodies loss if he invests according to the above Predictions, May be a Individual, Corporate and any Company for that Purpose. The Investor will be responsible for his whims and fancies for the Investment and shall be responsible  for losses incurred. This is only for Educational purpose and the Predictions can be wrong also. This is to see if Astrology has replicable effects